English Adventure's campsite is located in idyllic Tsunan-machi, in the mountains of Niigata prefecture.
The Location
Roughly three and a half hours from Tokyo, Tsunan is on the border between Niigata and Nagano prefectures, and is known as one of the snowiest places in Japan in the winter. Nestled in the mountains, surrounded by trees, and overlooking a wide valley, our campsite couldn't be in a prettier spot.
Our campsite comprises 400,000 square meters of hills, fields, and forests. Onsite there is a clean, warm lake for swimming; customized trails for hiking; and plenty of open space for running around. When the weather isn't cooperating and campers need to come inside, we have a large craft house, plenty of indoor space for games, and even a custom-built bouldering wall.
Facilities
The Lake
The Lake is a huge favorite of campers, and is located about ten minutes up the hill from the main lodge. On a hot summer day, swimming, water play, and kayaking are very popular activities.
The Sharktank
Campers first noticed that the large, multipurpose building across from the main lodge looks like it has a shark fin on the roof and affectionately nicknamed the building "The Sharktank." Inside the Sharktank, campers can run around and move their bodies even on the rainiest days. In addition, the Sharktank features our custom-built bouldering wall on which campers can navigate climbing problems appropriate for all ages. The Sharktank is also famous for its raging Dance Parties in the evening!
Craft House
Originally built as a rest house for skiers in the winter, the craft house is our arts and crafts center. Whether working on projects specially designed by our craft master and incorporating the surrounding natural environment, or simply making friendship bracelets and chatting with their bunkmates, the craft house is a favorite of all ages of campers.
Sports Fields
The Upper Field
Located near the lake, the Lakeside Field is an awesome multipurpose space where campers can play organized games. We try to feature new camp games every summer, while also keeping old favorites like soccer and capture the flag.
The Lower Field
As soon as campers step out of the lodge, they're stepping into what we call the Lower Field. This is a space mostly used for free time activities, from catching bugs to tossing a Frisbee. This is also where we have our popular BBQ lunches.
The Gaga Pit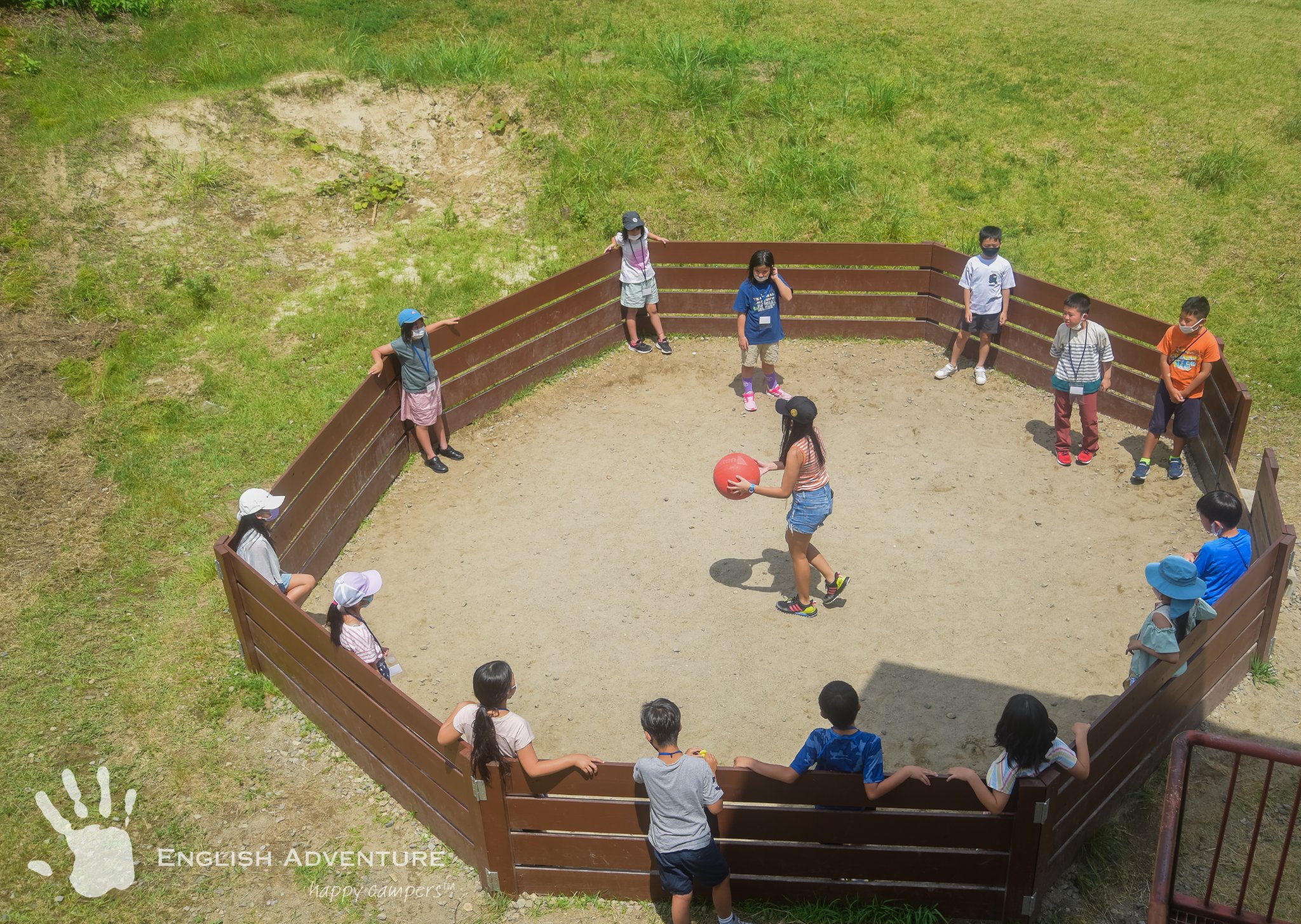 The Gaga Pit is where campers gather to play Gaga! Gaga is a staple of North American summer camps, and is one of the most popular activities at camp.

Gaga is similar to dodgeball, in that players who are hit by the ball (beneath the knees) are out and move outside the gaga pit to cheer for their friends. Unlike dodgeball, gaga doesn't have teams so every camper is for themselves. Also, the gaga ball may not be thrown or kicked, only "hit" with a hand. If the gaga ball is caught in midair without bouncing, the player who hit the ball is out; likewise if the gaga ball leaves the gaga pit, the player who hit the ball is out.

While not very well known in Japan (yet!), Gaga is sure to be a memory your camper will talk about for a long time!
Nine Square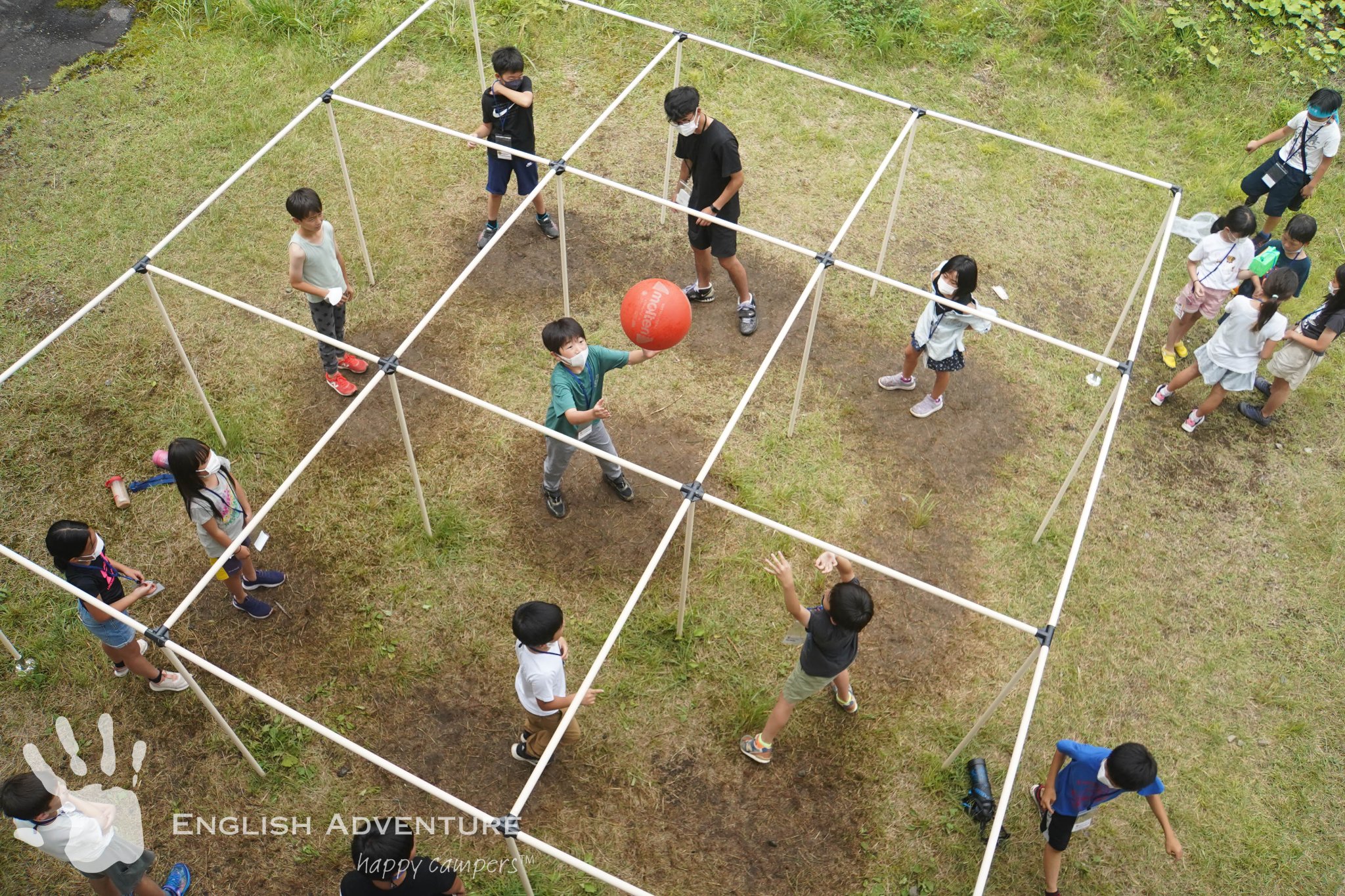 Nine Square is a fun game for everyone, where players aim to reach the central square in a 3x3 grid. The court is elevated, and the ball can't touch the ground or go out of bounds. Players pass the ball using their hands, head, or feet, and the receiver must hit it back into another square. If a player misses or hits it out of bounds, they're out. The objective is to reach the King or Queen's center square and stay there for as long as possible, and when a player is out, they wait in line or move to the lowest square. 
Learning from nature
Being in the forest, the campsite is naturally full of insect life. In fact, bug catching is one of the more popular free-time activities at camp, especially for our junior campers. One of the many benefits of camp is getting kids used to being around insects. Campers who come to camp afraid to touch or interact with insects will learn to relate to nature in a brand new way!

Playing with insects may seem like a small thing, but for campers who haven't spent much time in nature, camp is a huge adventure. Jumping in our beautiful, natural lake can be a valuable challenge for kids who have only swum in pools. In general, camp presents tons of opportunities for campers to push their boundaries, try new things, and gain a sense of accomplishment from meeting new challenges. We're always proud to see a smiling face replace a hesitant one.
Hiking Trails
Our campsite features several hiking trails, and we plan on adding more routes over the next few years. This flexibility gives us the ability to tailor hikes to camper's specific abilities. Junior and Middle campers' hikes are broken up by a low ropes station built in the forest. There they can play on the slack line or solve team-building challenges, sit down for a forest lunch, or just run around and play with their friends.

Our Senior campers will go on an overnight hike, featuring a climb over the mountain and around the backside lake, and dinner and overnighting at the top of the mountain to see the tremendous view over the Tsunan valley.
Every camper will get to experience the grandeur of the night sky during our easy night hikes. Away from the light pollution of the city, the stars at our campsite are truly uncountable. What a magical experience to see your first shooting star, surrounded by your new friends at camp!
Low Ropes Course
Our newly constructed ropes course is crafted from locally-sourced wood, cut down onsite by local lumberjacks. Situated in a shaded area among trees, the course provides a peaceful and tranquil space for campers to enjoy. From walking on log bridges to helping a teammate pass through a "spider web" made from ropes, this course offers many ways for creative play, problem solving and working together as a team.
The Lodge
Campers sleep in our private lodge, specifically tailored to camper's needs. Some campers will sleep on bunk beds and other will sleep in Japanese-style rooms with futons on the floor. Most rooms will have at least one staff member sleeping in them, and camper rooms without a staff member will be across the hall from their assigned staff member's room.
Some campers (and staff!) come to camp not knowing how to set up a Japanese-style futon, but together with their bunkmates campers have a great time learning how to do it!
Meals
Being an international camp, our cafeteria naturally serves an international menu! Even campers who are used to a solely Japanese diet are encouraged to try new foods at camp. We focus on using fresh, locally-sourced ingredients that change every day to keep campers healthy and happy.
For both challenge and immersion programs, most meals are eaten in our cafeteria. Once per session, campers will also get to experience a BBQ lunch in the lower field as well as a meal in the forest on their hike.
Sample Menu
[Breakfast]
Homemade breads and croissants
Rice
Scrambled Eggs
Ham
Cheese slices
Cereal
Homemade yogurt
Milk
Fresh Fruits
[Lunch]
Foccacia
Rice
Roast Pork
Roasted Potatoes
Salad Bar

[Dinner]
Chicken Stroganoff
Ratatouille
Rice
Salad Bar
Fresh Fruits
*Menus vary from day to day and session to session depending on what's in season and what's fresh!

Campers shouldn't expect the same food they're used to at home – and that's awesome! Challenging themselves to try new foods is one of the many positive things campers take away from camp.
White Season
Our lodge is situated in the middle of our own private ski hill, and in the winter we run English ski camps! Campers can put on their skis on the first floor of the lodge and be on the lift in minutes.

And just like in the Summer, campers are surrounded by the beautiful natural wonderland of the Niigata mountains.